March 29, 2023
Gaspardo Vacuum Planters
Gaspardo Vacuum Planters have been popular in precision planting since their introduction into the Salinas Valley in the early 1980s. Reliability
and low maintenance costs make Gaspardo the right choice for many growers.



GASPARDO LARGE SEED VACUUM PLANTER
The Gaspardo large seed vacuum planter has proven itself for years. Singulation of
corn, beans, and peas is nearly 100%.
Depth control is easily achieved with a hand crank that raises and lowers the rear
packer wheel.
If the standard coulter does not meet your needs, an easily attached double disc
opener is also available.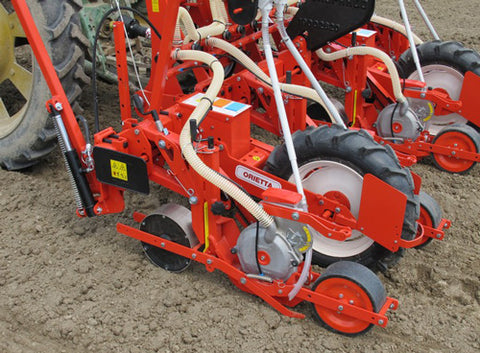 GASPARDO SMALL SEED VACUUM PLANTER
Unique, dual singulators set the Gaspardo Orietta Model R apart from other
vacuum planters.
Most of the excess seed picked-up by the plate is eliminated by the primary
singulator. The plate then moves the seed past a second singulator, gaining
an even higher degree of singulation.
The Orietta Model R is Ideal for planting small vegetable seeds.